Indonesia state-own airlines - Garuda Indonesia - put an interesting advertising today in newspaper (Kompas, 16 September 2009) to describe its Garuda Indonesia Experience.
[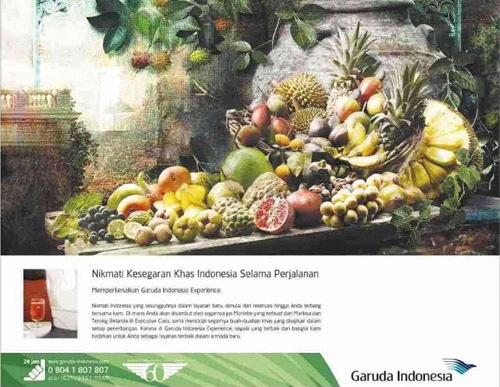 I don't know which routes to offer these kind of drinking privilege, but from the picture we know that there are various of juices: Dark-grape, mango, banana, pineapple, cheersak, guava, jackfruit, salak, and king of fruit: Durian.
How to serve durian in a plane, in a flight? Because of not all people love its smell. It is nearly impossible to do juicing during flight, so flight attendant might be offering pre-made juices packed in plastic cup, or factory made juices (like Berry, Just Juice, etc). But really, I just curious to know how they can explain durian smell to foreigners. Even Andrew Zimmern couldn't stand of durian taste and smell.