When you want to arrange your travel itinerary in France or across Europe, you may stuck into France SNCF website to buy train tickets.
Before I continue about this, let's see what options do we have to buy Europe Train Ticket online:
www.raileurope.com - Use this if you live in USA
www.raileurope.co.uk - if you live in UK
www.raileurope.ca - for Canadian
www.raileurope.co.au - for Australia / NZ
www.raileurope.com.sg - for Singaporean
or contact your authorized local agent. For example is Pantravel in Indonesia, for more click here : To find out your local country travel agent
Those sites sell all train tickets inside Europe, e.g London to Paris Eurostar train, Paris-Amsterdam trains, etc. But querying these site (especially UK site) from time to time, I find that the ticket price quoted in the site is standard price, I seldom get promo fares. This means RailEurope may be offering you higher quote price.
To get train promo fares, you have to buy them at least one month ahead, by visiting each country's train site (I will call this as : source site). Source site is country's site where your journey begin.
www.tgv-europe.com - for France TGV trains (equiv.
www.trenitalia.com - for Italy trains
www.bahn.de - for Germany trains
www.raileurope.co.uk - for UK trains
www.sbb.ch - for Swiss trains
www.ns.nl - Netherlands trains
For example, If you want to travel from Rome to Venice in Italy, better use Trenitalia website than the rests because only Trenitalia offers promo fare like Family, Amica, -15%, even -60% fares. For cross-country train, e.g Paris to Amsterdam, you can query on both TGV SNCF or NS website (and sometimes you'll surprise they can offer you different price for same date same train journey).
Now it seems easy, itsn't it? Just visit the website and purchase online, the sites have English version. Some can produce e-ticket or home-printing tickets, but for International / cross-country journey usually you have to pickup tickets from automated machines at train stations.
Back to our problem, if you ever try: buying ticket at tgv-europe.com, choose English language and ticket pickup at France, the site will always redirect you to Voyages-SNCF.com with French language version. If you choose ticket pickup at Great Britain, yes it will stay in English version, but then you have to fill British home address and postcode (which I don't live there). How to solve this annoying thing? Keep browsing in French Language! Follow my steps below you won't get lost. I'll show you how (FYI, I am also blind in French language).
The only tool you need is Google Translate http://translate.google.com/translate_t#fr|en| Use it whenever you encounter French language message.
Step by Step to buy TGV Ticket in French
1. Open our lovely SNCF French site : http://www.voyages-sncf.com/
2. Select Train - Réservez votre billet de train from menu
[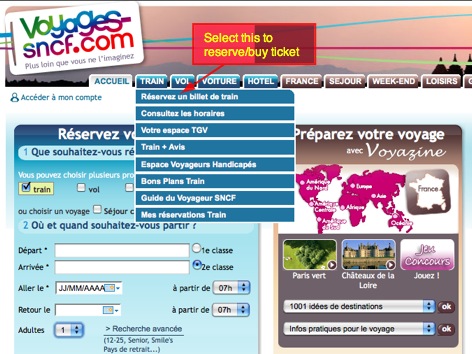 3. You will be presented a query page. Now see my translation for the query menu
[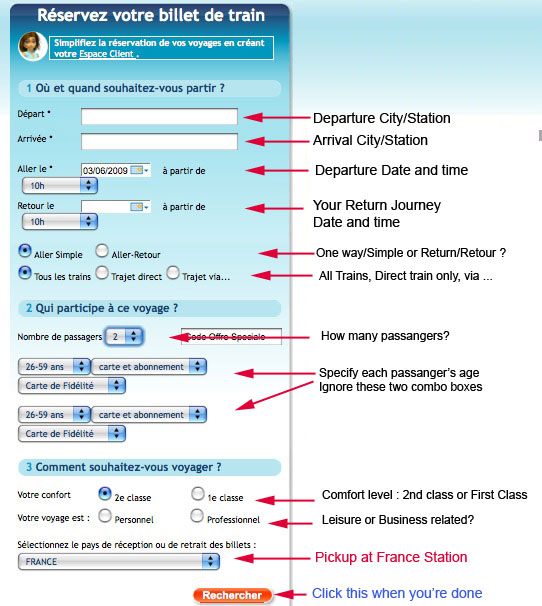 4. Enter your Departure and Arrival city, Date (single/return), and your preferred time, don't forget to specify how many persons with you. Click Rechercher to continue.
5. If your entered cities / stations is not exactly what they what, you will be asked to specify exact station again. Just click "Aide" button besides Depart / Arrivee box to choose your station.
6. Next page, now you will be given list of trains and schedules. Select your preferred time, and ticket class. You'll know ticket price per adult by clicking small detail button.
[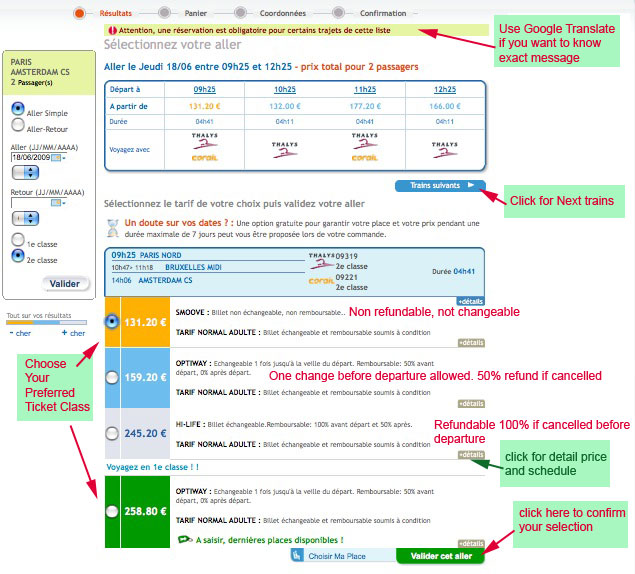 7. On next page, you only need to confirm your selection.
[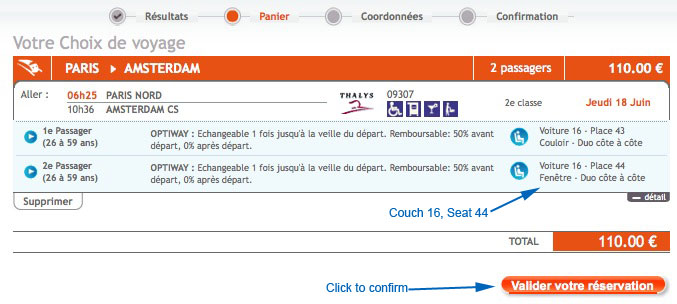 8. Select ticket delivery method. I suggest you choose the first option: pick up ticket at station (using automated machine).
[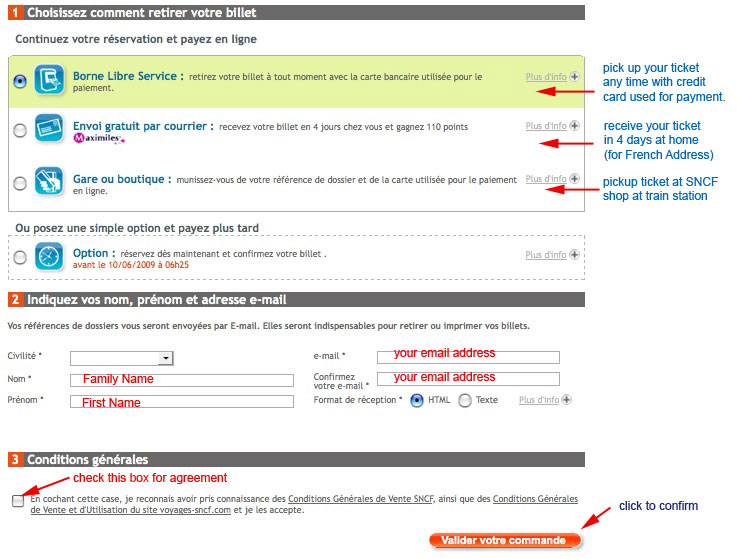 9. Next page, double-check your train, time, name. And if okay, enter your credit card number. Click "Valider votre paiement" to begin purchasing process.
10. If successful, the last page is confirmation page. Print this page and present it to SNCF staff at big stations (such as Gare Du Nord, Lyon, L'est, etc) or you can find automated machines in train stations. You have to bring the credit card for this transaction and present it to staff or insert into machine for validation.
Many reports say that credit cards issued by US banks are usually cannot be validated by automated machine in stations. Usually this is because the credit card has not implemented chip security (You can see chip in your credit card face). If this is your case, just bring confirmation mail and credit card to SNCF boutique. The staffs will help you.
That's all folks.. happy travelling.