Paris offers a lot of sighseeings, from the bronze coloured (official color name is brownish gray) Eiffel Tower, to magnificent Notre Dame Catedral, to the only Disneyland in Europe.
For tourists, the best and convenient way to explore Paris is by underground train, called as Metro and complemented by RER suburban train. 16 Metro lines, together with 5 lines of RER cover almost all part of Paris.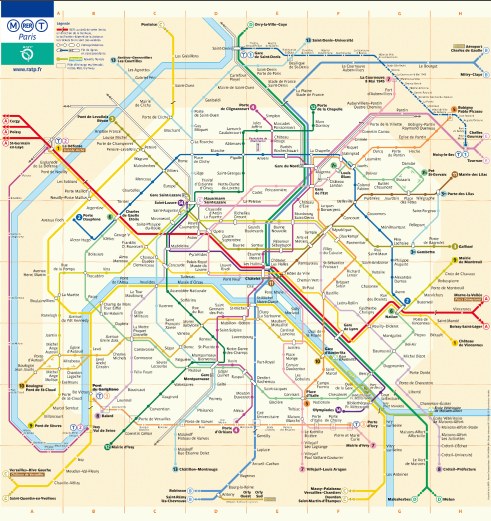 You can download Paris Metro and RER map in PDF format. But for latest and official map and fare, you should consult Paris RATP website.
There are some options in paying this Metro RER fare. The common for tourists is to buy carnette (also known as T+ ticket). It is a small card (domino card size) with magnetic strip on the back. Valid for one journey in inner Paris zone 1, costs EUR 1.60 if you buy it single or a pack of 10 carnette for EUR 11.60 (EUR 5.80 for children). For moderate sighseeing in a day, we may only need 4-5 carnettes so a pack of 10 carnettes should be enough if you only have 2 days in Paris.
1 day Metro Pass, 2-3-5 day pass are also available and sold in the name of Paris Visite. This kind of travel pass is a highly published by Paris Tourism so for many people they only know this kind of pass.
| Zones | 1 day adult pass | 2 day | 3 day | 5 day |
| --- | --- | --- | --- | --- |
| 1-3 | 8.80 | 14.40 | 19.60 | 28.30 |
| 1-6 | 18.50 | 28.30 | 39.70 | 48.40 |
I can only say that Paris Visite is a bit expensive, although it has benefits and discounts (which we may not take advantage of).
For real saving, I suggest you to have Paris Mobilis Card. This card offers you unlimited travel in a day using Metro, RER, and Bus in a cheap way.



Mobilis Card size is exactly same with carnette, different is you have to write down your first name, last name, and date in the card face. Although it will never be revealed to train staff, better you follow the rule.
You can compare Mobilis with Paris Visite card, and in the end I bet that Mobilis fare beats it. For example, for traveling in central Paris alone in a day we only need to buy 5.90 Euro for Mobilis Card instead of 8.80 Euro for Paris Visite Card. Central Paris is huge and cover most of Paris tourist destinations, so who wants to go to zone 3?
Mobilis

| | Euros |
| --- | --- |
| zones 1 - 2 | 5,90 |
| zones 1 - 3 | 7,90 |
| zones 1 - 4 | 9,80 |
| zones 1 - 5 | 13,20 |
| zones 1 - 6 | 16,70 |
The other example is if you plan to visit Paris Disneyland (in zone 5). If you purely want to spend a day in Disneyland, better buy 2 carnette of zone 1-5 that costs 2 x EUR 6.55 (fare as of 1 July 2009). But if you plan to visit other places during that day, Mobilis card zone 1-5 will be the cheapest option (only EUR 13.20 for unlimited travel).
Where to buy Mobilis Card
The easies way to buy Mobilis is to queue at Metro or RER staff counter. Just ask staff on duty that you want to buy Mobilis Card (also specify which zone). But most of the time these counters have long queue and you don't have the patience. Find an automatic ticket machine (green coloured) with sign "billetteries" inside any metro stations.
image from knol.com
You can use euro coins or credit card to buy t+ ticket or Mobilis card in these machines. The main screen is in French but you can change it to English or other languages by following these steps: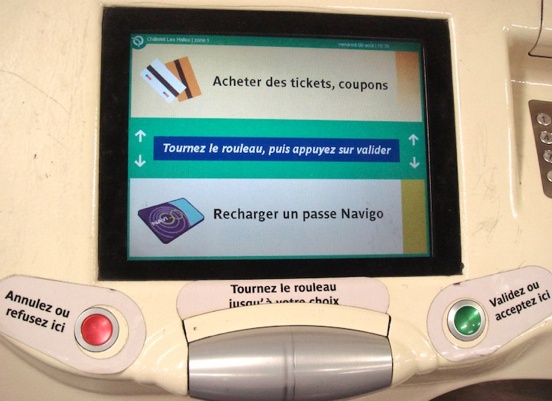 image from ParisByTrain
Find available ticket machine
below the screen you'll find a roller (work just like a mouse scroll in computer)
roll to menu "Acheter des tickets", then press

green

button
next screen will offer you to change language to English
after language changed, now it is easier. There are 3 options: buy a single ticket, buy a carnette of 10 tickets, and buy the other tickets (such as ticket to Disneyland, and of course Mobilis card).
Choose 3rd options: Billet ile-de-france, autres coupons
Now choose Mobilis, then select which zone to cover (1 to 6 zones).
Final step is to choose payment method, either coins or credit card (not all credit card works in this machine, you need to try to know. But credit card with chip is mandatory).
After validating, your card will be available to pick at bottom of machine.
(more detail steps can be read from ParisbyTrain).
How to validate Mobilis Card
Before initial use, you need to write down your name and date of travel on card face. Then work just like t+ tickets, you need to validate Mobilis Card each time you enter and exit barrier gate in metro/RER stations. Save this card during your journey because it valid for the whole day.