During my previous visit to Europe on July '09, one night was to sleep in Amsterdam. As some people may know that Amsterdam hotels tend to be expensive compared to other European cities like Paris, Rome, etc. Amsterdam hotel rates are as high as London, in short: most of them are expensive.
One hotel that I had wanted to try in Amsterdam was to stay at citizenM Hotel. If you google a bit about this hotel, the impressions would be chick and well designed. So I took my chance to try this hotel.
citizenM is a new chain hotel from Netherland, now available in 2 locations: citizenM Amsterdam Schipol Airport and citizenM Amsterdam City. If you have time for quick stopover during your flight, citizenM Schipol airport can be your option. It is located only 5 minutes walk from airport arrival hall. But if you prefer to stay in the city, citizenM Amsterdam City is the best option.
I chose citizenM Amsterdam City, located on Prinses Irenestraat, it is behind Amsterdam WTC or Zuid complex. We can take Amsterdam metro number 51 from Amsterdam Centraal Station to Zuid station then walk about 7 minutes to the hotel, or for more convenience we can take tram number 5, stop at Prinses Irenestraat, the hotel is 30 meter from tram stop. Tram journey from Centraal station is about 20 minutes.
Although it is not near Centraal Station (which many travelers prefered), but staying in this hotel was a new experience to me personally. With its minimalistic but technology concious design, affordable price (EUR 80 - 120 per night), I can summary in a short: a very nice sleep.
Hotel exterior is basic, all rectangle glasses in facade. Entering main door, I was greeted with lounge atmosphere. No receptionist because check-in process is self service. There are many computer stations in the lobby area, just find empty one then enter my reservation number in the screen. The menu is very user friendly, but you can ask for available friendly staff help if needed. Computer will ask us to take a hotel keycard from basket then tap it to the reader. This will activate the keycard and assign room number. In the end of this 3 minutes check-in process, a print-out paper will be issued. My room number and wifi password (it's free) are printed in the paper. Simple and no need to queue for this check-in!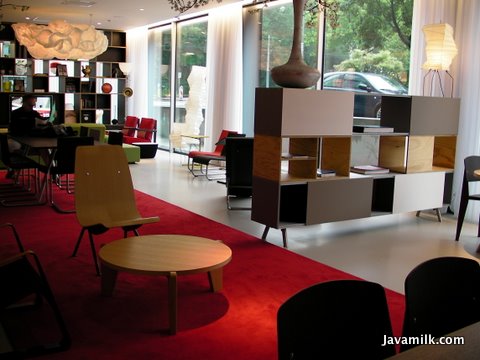 Lobby area is design showcase for this hotel, we can find IKEA like furniture at every corner. There are iMac computers to use for free Internet access. 24-hour canteen is also available to serve food and beverages (a bit pricey!).
[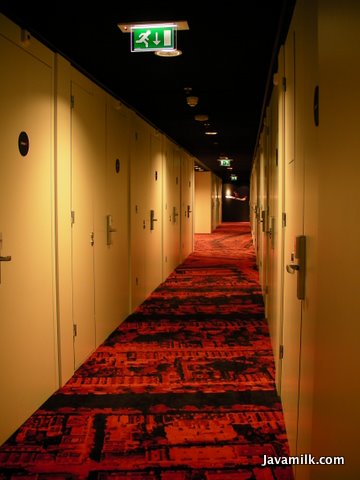 Taking lift to my room, find room number from the print-out. Inserted keycard into the door slot, I entered a podroom design. A squared room all amenities are inside it including shower and toilet. Room size is 14 square meter, just imagine you are in a container.
[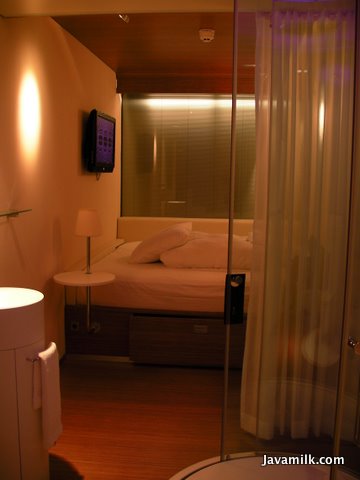 This kind of room, podroom, is only suitable to family or couple use. It is not suitable if you stay with a friend even a close one. When one taking bath or sitting at toilet, it is visible to the other party except you ask him/her to go out a while.
The bed is super big in size, it is 2 meter x 2 meter at least, can accomodate 3 persons (if you dare) and very comfy. Drawer to store clothes is located below the bed. LCD TV is fitted on the wall in the position that one will be sleeping while watching tv.
Every room comes with free wifi Internet, free tv channels (since this is Amsterdam, then adult channels are there to watch).
The most important thing in this room is a gadget that can control all things in the room. Designed by Philips (and all lightings are also Philips) it is called mood pad. You can see that my name in this gadget's home screen when I entered the room for the first time. We can control room ambiance / color, tv channels, room temperature, and window blind using this wireless mood pad. It can also wake you up by setting alarm. I can easily change room ambiance from bright to dark, green or yellow, or whatever color I like using its color selector. Wow!
[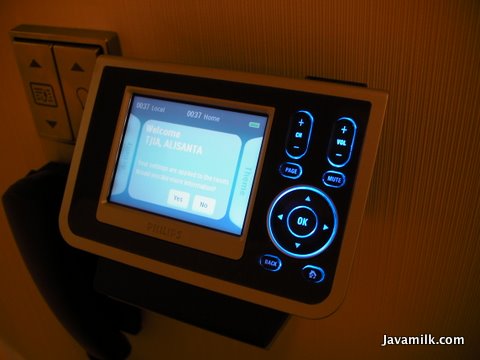 [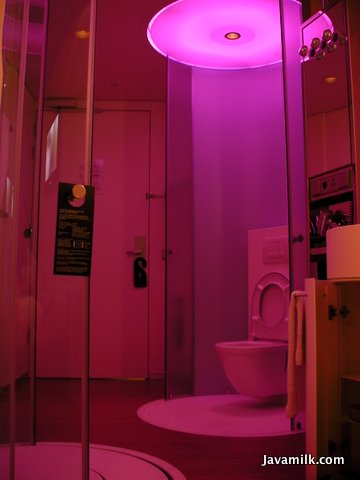 The shower room is in a rounded transparent glass box, water will not flow if you don't close the glass correctly. This is to avoid water splashes outside floor. Water drops from above your head, they call it power-rain shower, although my experience showed that the water flow was not powered-enough.
Overall like I said, this hotel is very nice and comfortable to stay. One facility that is not available in this hotel is luggage storage room. Considering its location, may be it is more convenience to store luggages in locker at Centraal Station. Considering its affordable price, why not?