I was inside a church, it was an old church built around 1670-1680 and located adjacent to Santa Lucia Stazione at Venezia, Italia. That morning, I woke up early to prepare everything for my tour group and still had some time to spare before starting to explore Venezia (or Venice in English). When I walked thru that church, I realized that a mass had just begun, so I entered and sat on the last row bench.
[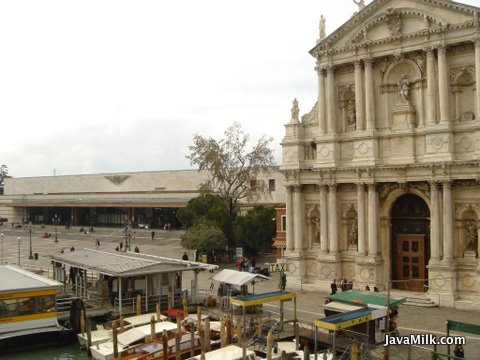 In Italian, it is called Chiesa di Santa Maria di Nazareth, literally Church of Santa Maria of Nazaret, also locally known as Scalzi. As similar to other churches I had ever attended in Europe, mass like this is never full of people. But in Italy, churches are more popular since almost all Italian are Catholic. But weekday mass is as usual, mostly empty.
So that morning, I believed I was the youngest fellow in that mass, celebrated by a padre that was so old that he walked very slow. Less than twenty elders were praying in Italian voices, not loud, no music and no microphone. The one I remember until now is that host I received during communion was bigger in size compared to my usual mass in Jakarta, and also textured with Px symbol.
The padre looked at me suspiciously before giving that host, he might never seen Chinese looking guy with Catholic faith. No songs were sung during communion, and before concluding the mass, I had left the church and went back to Belle Epoque Hotel to catch my schedule. Getting out the front door, Grand Canal of Venice with gondoliers waiting for tourists just in front of the church. A peace of mind after attending eucharist in the most romantic place in Italy.
Traveling during holiday doesn't mean you are having off-day from God. If I have time, then I'll try to find church, just for short praying or for complete mass. Same like when I traveled to Melaka, Malaysia, in 2008 during Good Friday, I celebrated the mass in the historic - postcard icon red church in Melaka, that is an Anglican Church. Or when I only had short hour visit to Paris Gothic Notre Dame Church, a quick stroll and glance at each chapel was enough.
Place mentioned in this article:
[