Bringing laptop during travelling is very handy, as we need to stay online or check email wherever we are. But laptop (or you may bring netbook) is (sometime) heavy, and battery life cannot last for long-haul flight (unless you sit in business class that offers electric plug).
So, iPad is coming to save the world. It is lightweight, less than 800g, can be used for 10+ hours of work, at least you can watch movies or play hours of game in your flight across continent. What do you want to do? Read emails, rss, work with documents or presentations, play games, listen to music? Most of laptop functionality are there in iPad. When AmericanAirlines offers inflight wifi, you could not be happier since you can browse Internet to kill time.
[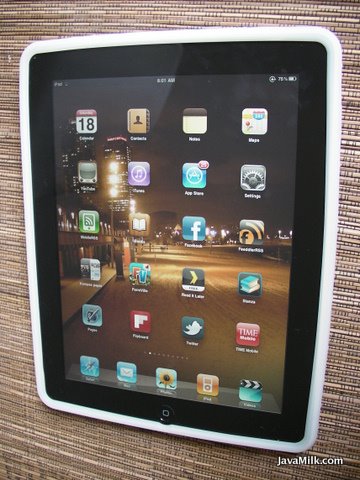 iPad wifi is the cheapest line-up of iPad, as for iPad 3G you need to add up to 200 USD. So as alternative, there's new gadget called mi-fi, a more personal version of wifi router.
I bought Huawei E585 mifi from an Internet forum for IDR 1,000,000 (USD 110), it has not actually been sold in Indonesia, this is an unlocked version of model sold by Three in UK (priced GBP 59). With OLED display, also web management, all I have to do is to insert SIM Card and set correct APN, then it will automatically connect to Internet. Cable is provided for only charging function, so basically it is really a portable wireless router. Battery life for non-stop browsing is 4-5 hours, standby may be 8-10 hours. I can share my Internet connection to my Macbook, iPad, also iPod Touch.
[
So now, if I can leave my work behind then I don't have to carry a laptop anymore during travel. Travelling is supposed to be fun right? Why should we carry something from office. For emergency work, I can use Teamviewer for iPadto remote to office PC to do some light works.