Netherland is bicycle heaven. Every city, any places, we can easily find someone is riding bicycle in his daily activity, from walk his dog, shopping, go to university or workplace.
So as a tourist, this activity should not be missed. It is fun and healthy, also cheap (if you own one). Rent a bike is also very convenient as many places, Amsterdam in particular, are offering bike rental. One day rent of bike is from 8-12 Euro. Deposit is required, either by placing your cash or by credit card. This is deposit to ensure that you will return the bike back to its workshop. Also paying insurance is optional (3 Euro) against theft.
One thing to note is the bike we rent usually is dutch classic, granny bike. It features one speed only with pedal break. It will take little time to get accustomed to operate this kind of bicycle. After paying rental fee and deposit, follow bike lock instruction shown by rental company staff. Then take your bike to the road. Most of roads in Amsterdam have special dedicated bicycle lane, so it is very safe as long as you follow traffic rule (bike usually is prioritized against cars).
[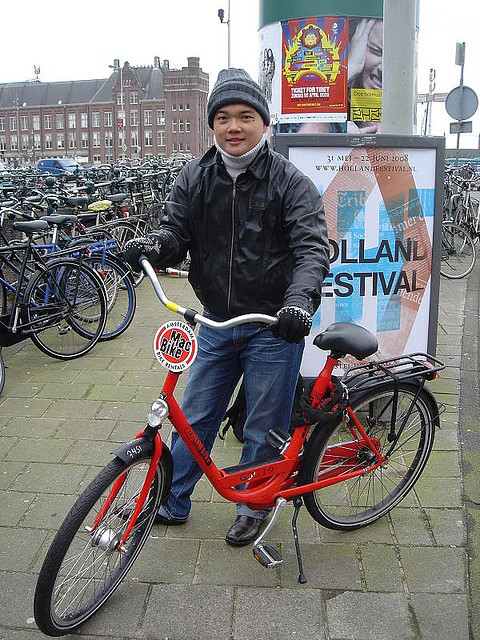 Rental bike is usually painted as unique as possible, this is to reduce theft and also self beg for pardon for your non-skillful ride.
Where to Rent a Bike in Amsterdam
MacBike is one of touristic famous rental company, well-known by its red-painted bikes. If you don't want to be recognized as tourist, try Bike City Rental at Bloemgracht as they can offer dark classic bikes used by residents. Children size bike is also available.
One place you can easily count to rent bike is at Amsterdam Centraal Station. Arriving at Amsterdam by train, exit the station and turn left you will find one MacBike outlet. Another place is at Leidseplein, several rental companies are offering bike rental there. Rent-a-bike is also offering bike rental (including tandem-style) at Damstraat, 5 minutes walk from Centraal Station.
Thing to note is that usually you have to return the bike on specified period if you rent just for 3 hours, or before store closed. Closing time vary across each store, make sure you ask their staff.
Bike Route
Guided tour is available (additional fee), or you can buy self-guided bicycle route map if you want to explore city independently. Following many canal and beautiful building is very pleasant by bike. I easily got lost if I don't follow the route map, but getting lost is part of the fun, isn't it?
If tired, just park the bike, double lock it, and have fun, just like my lovely wife in this picture below.