Arriving in one of London Airports: Heathrow, Stansted, Luton, or Gatwick, the problem is the same: what is the cheapest way to get into city.
If you are arriving in Heathrow Airport (LHR), then luckily there is underground (subway) train system running across 5 terminals going to city by taking Piccadilly line. It is pretty cheap in UK standard, only £5.30 by cash (using Oyster Card will be cheaper). The only drawback is that has many stops during the way, more than 45 minutes to Victoria Station in city center.
But it is a different story for Stansted, Luton, and Gatwick Airport, where not served by underground train. Business oriented train companies run these airport trains and unfortunately they are pretty expensive.
Gatwick to Victoria Station is £12.5 by Southern Railways (44 min) and £17.90 by Gatwick Express (30 min). Stansted Airport to city? Prepare for £20.00 by Stansted Express (46 min, Liverpool St Station), £18.70 by National Express East Anglia (33 min, Tottenham Hale Station).
So if you are travelling on budget constrained, taking train may not be a wise option. Consider to take bus transfer, it is a bit not convenience (slower with traffic jam) but I believe it is less walking by drop off on side street instead of walking in and out huge train station.
Luckily, there are several low-cost frequent airport transfer service from those airports to city with prices as low as £2.
National Express Coach

National Express buses can take us from Stansted Airport to London Victoria  station for £10.50 (85-100min, A6 route) and to Liverpool St Station for £8.50 (45-60 min, A9 route).
For bus going to London Victoria station, you can take frequent service for only £8.50 (100 min)
Terravision
One of leading bus companies from Europe, Terravision also run bus service from Stansted Airport to Victoria and Liverpool St Station for only £9 per one way.
easyBus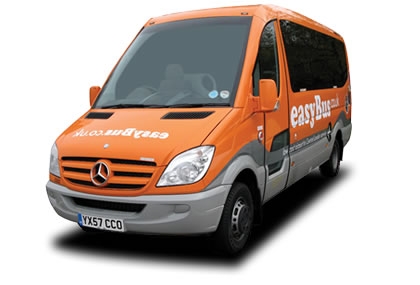 If you ever take EasyJet airlines, then you will notice this distinctive orange color of bus as well. Same holding company, one is the cheapest airlines in Europe, and easyBus is the cheapest airport transfer bus to city.
Just like low-cost airline, the bus fare will be the cheapest if you book weeks ahead, can be only £2 per adult one-way. But normally ticket from Stansted Airport or Gatwick is about £4-£9. They operate several lines for 4 airports: Heathrow/Luton/Stansted to Victoria and Gatwick Airport to Earl's Court.
[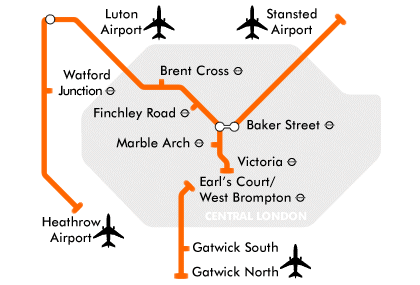 So in summary on above extensive list of mode of transportation, it is your choice to choose between comfort vs budget vs time. Have a nice stay in London !
Note: all prices above are one-way ticket for one adult. There may be discounted price for online purchase or group purchase.