Prev: Visit Jakarta in 3 days - Part 1
Suggested 3 day itinerary in Jakarta
If you only have 3 days to spend in Jakarta, why not trying my suggestion here. Please be advised that Jakarta traffic is sooo crowded, don't expect to get to anywhere in short time even if you just want to go to opposite building by car.
Transportation I assume you'll use is TransJakarta Busway, it is cheap and efficient, but using taxi is more favorable for tourists.
Here I provide Busway corridor 1 route as illustration and your guide (original image from skyscrapercity.com forum). Green dot is your destinations mentioned below.


Day 1: Jakarta Essentials
Taste Jakarta hospitality in your first day. Enjoy breakfast in your hotel or nearby, how about a dish of Nasi Goreng (Fried Rice) and Java Coffee.
Today get used to Jakarta traffic and environment. What the best in Jakarta is lots of shopping malls although they are scattered on different parts of city.
Take TransJakarta line 1 heading to Bundaran Hotel Indonesia. This is the very central of Jakarta with a huge rounded fountain. Stood in the center of fountain is "Welcome statue", that was built to host Asian Games on 1962.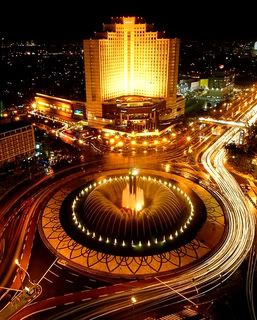 (image from http://smartlandscape.wordpress.com/)
All corners of the street are now hotels: Mandarin Oriental, Hotel Grand Hyatt, Nikko Hotel and Kempinski (used to be Hotel Indonesia).
Plaza Indonesia shopping centre and EX are combined with Grand Hyatt Hotel. It sells high-end items from International brand name such as Gucci, etc. EX building contains lots of restaurant, bowling alley, and XXI cineplex (which I can say the best in town, try it on weekday).
A large shopping centre called Grand Indonesia now open just behind Kempinski Hotel & residence. It is so vast that you can easily get lost in the mall. Ask staff direction for its musical fountain played every hour. Alun-alun Indonesia in Seibu Department Store sells many Indonesian antiques and cultural items including batik clothing. Lunch time? Go to Grand Indonesia Food Louver on 3rd floor to see variety of menu.
In the afternoon, you can try to go to Menteng by taxi (ask driver to take you exploring Menteng area and houses, and last to drop you on Taman Menteng (Park)). This is a nice and beautiful district with many Dutch colonial houses. Menteng Park is the latest development of the area, while you can explore that neighbourhood by foot.
Day 2: Jakarta Heritage
Explore some museums and old town today: Glodok (Chinatown), Old City, Fatahilah museum, National Museum, National Monument (Monas).
[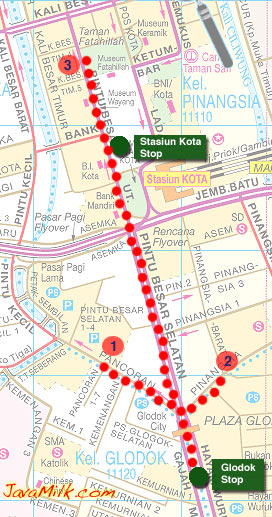 First, take TransJakarta line 1 heading to Stasiun Kota. Stop at Glodok, and go to left side of street. Watch for traffic and pack of people. You are heading to unofficial Chinatown district (#1 in map). Although not much can be seen for tourist, you can take pictures of old buildings built on earlier 1900, now mostly functioned as chinese medicine shops.
In the opposite street (#2 in map) you can find shops selling all kind of pirates DVD and software. Although not recommended to buy pirates, their price and quality is heart-luring, IDR 5000 (50 cents USD) per DVD title. Some vendors also sell adult porn DVD but some just fake, so it is risky.
Continue by foot for 500 meters to Stasiun Kota (follow your previous Transjakarta busway route). This used to be Central train station to everywhere, but now serves commuter train only. Still go stright in your walk path, then you can find a piazza (wow now we can call it "piazza' or 'square") that used to be Batavia City Hall during Dutch era (#3 in map). You are now on Kota Tua (old town) restoration area, and one of the highlight is Fatahillah Museum (picture here).
It used to be a Dutch administration office now become History Museum. Small entrance fee will be quoted and you can go inside. Also believed ghosts live in some part of building used to be prison, ask for direction :) There is a cannon in front of the building that are believed will bring fertility for those who touch it.
On the left of this square (right if you face Fatahillah facade), there is Museum Wayang (Indonesia Puppets Museum) that is worth exploring. On the right of the square you can find Museum Seni Rupa dan Keramik (Fine Arts and Ceramics Museum).
Have lunch in Batavia Cafe, just in front of Fatahillah Museum. It is one of recommended restaurants for tourist visiting Jakarta, although I never tried it.
Having finished exploring this old town area, go back to Stasiun Kota to hop on TransJakarta busway again. Ride this bus and stop at Monumen Nasional (Monas). You will be exploring both side of streets, on your right there is Museum Nasional while on the left there is Monas square.
Museum Nasional exhibits many invaluable art pieces gathered from around Indonesia. From paintings to statues are kept in this big building. Small entrance fee will be quoted and tour guide for Japanase, English, or Dutch language can be arranged based on schedule.
Monas (National Monument) is Jakarta landmark for decades with its distinctive design. Designed like a candle and flame with gold plated. At 137 m tall it was the highest building in Jakarta in its era, you can take lift to top viewing level and see entire Jakarta from here. Avoid coming here at weekend because of long queue. Monas square also has some attractions such as water fountain and deer zoo.

(image taken from this blog).
Not far from Monas, you can find Istana Negara (Presidential Palace). Entrance is not permitted on normal day, so you can only take pictures from its front gate.
Hop on again Transjakarta or just walk if you prefer to Sarinah building (2 bus stops away from Monas stop). Used to be the tallest shopping centre in Jakarta from '60s, now preserved and stood still as department stores. You can find Indonesia's handicrafts and silver made souvernirs in the 4th or 5th floor in the building. Some highlights worthed to mention are Borobudur statue miniature made from silver, wayang (puppet), wooden statue, angklung (bamboo music device), and batik shirts.
When dinner time calls, go to a road block behind: Jl. Sabang or Jl. Hasyim Ashari to find many restaurants. Try to eat Satay and Gado-Gado.
Day 3: Have Fun in Jakarta
Bring some spare t-shirts, go to the largest theme park at South-east Asia (if not Asia). Located on Ancol, North Jakarta, Taman Impian Jaya Ancol is a getaway heaven for Jakarta residents. You will need more than one day to explore this whole Ancol actually, but if you are given only 1 day, it is so hard to choose to spend :
Dunia Fantasi (Dufan / Fantasy World). Largest and complete theme park, from Ferris wheel to roller coaster, all playable for children and adults. Test your guts and adrenaline at latest ride: Tornado. Playing inside Dufan will cost you one full day, choose weekday to avoid long queue on rides.
Gelanggang Renang. Largest waterland, fun for swimming, water sliding and taste of sea wave imitation.
Long Beach, wet your feet and enjoy Jakarta sun in the afternoon. Not suitable for sun-bathing, surfing is not possible.
Gelanggang Samudra. Attractions including dolphins, seagull and 4D cinema.
Ice World. Feel winter sensation in this arena.
Enjoy Seafood restaurants in the sunset, recommended one is Bandar Jakarta.