As one of Jakarta best hotels, Shangri-La Hotel Jakarta offers luxury and Indonesian hospitality in the very heart of Jakarta CBD.
Located just behind Jl. Jendral Sudirman, Jakarta busiest main road, this 5-star rating hotel practically is serving business oriented customers in weekday, while on weekend left for leisure seekers.
[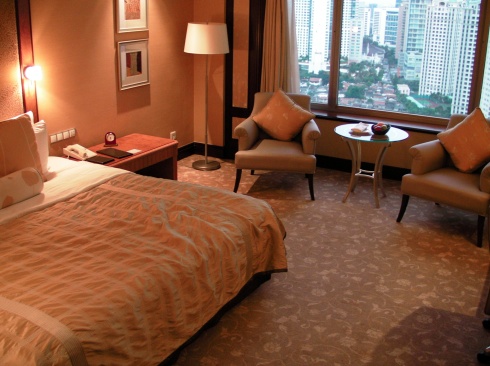 Apart from suites, there are 2 types of room: deluxe and executive room. While you can choose either city view or pool view, but both are not as great as you might think since the hotel area is surrounded by low-rise kampung houses (if you choose pool view) and ciliwung river (for city view). But choosing pool view is always better than city view, trust me.
[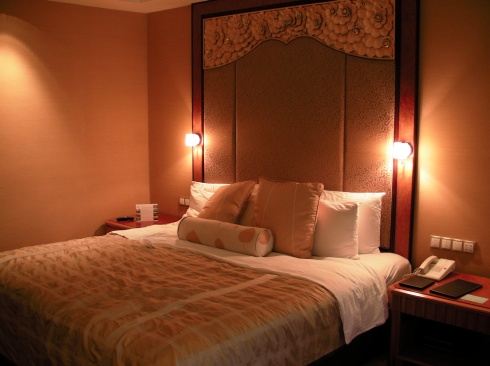 [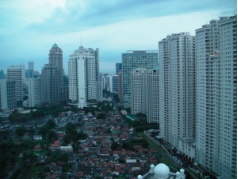 [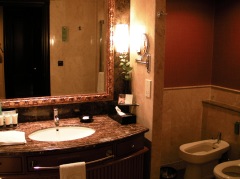 Room size is large enough, approx. 48 meter square, so we won't have problem with space. Facilities such as television (sadly still CRT type) with cable channels, mini bar and refrigerator, water heater, and most importantly free Internet access, are standard features of each room. Free wifi is also available at public areas.
Bathroom is this hotel pride, big and complete. Usually in other hotels there will only be either bathtub or standing shower, but in Shangri-La we have both in one bathroom. Toiletries can be said complete enough.
Hotel swimming pool is quite beautiful, designed to cater swimmers as well as children's shallow pool. It is almost empty on weekdays, but expect children and families during weekend. You can lay on beach chair at the pool side just to absorb Indonesia sun as much as you want (beware of sun burn) or just strolling around.
[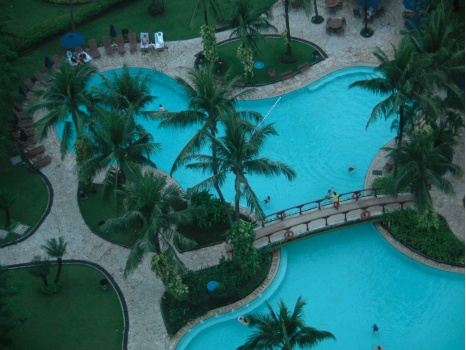 To escape from daily work, a mini golf course can be our option. A small green just beside the swimming pool offers some holes and bunker to play, but you need to bring your own sticks.
Nothing special in hotel surroundings since all are business buildings, and you should not go outside the hotel by walking since nothing interesting. Grab a taxi to take you nearest mall at Grand Indonesia, Plaza Indonesia, or a bit further to Plaza Senayan and Senayan City. For nearest public transportation, you have to walk around 7-10 minutes from hotel to Dukuh Atas station, where you can hop on TransJakarta Bus Rapid Trans, it can take you to almost everywhere in Jakarta with flat rate IDR 3500 (USD 0.40).
Breakfast is usually included in your room rate and served at Satoo Restaurant. An all-you-can-eat style breakfast until 10am with wide varieties of choices: noodle, bread and croissant, sausage and omelette, porridge, or even Indonesia nasi goreng. Free flow of coffee, tea, or juices, not to mention fruits and yoghurt, will definitely push our limit.
The other restaurants in this hotel are also worth mentioning (but quite pricey): Chinese restaurant at Shang Palace, Italian cooking at Rosso, and Japanese ramen at Nadaman.
Room rates range from USD 120-200, to book this hotel you can access their own website, or for better discount rate try to book from Agoda.
At last, it seems that nothing to complain about this hotel and its service. Just Enjoy Jakarta!