Choosing hotel to stay in Barcelona is practically not a big problem. There are a lot of good hotels to choose at your preferred location.
Eurostars has many hotels in Spain, at many big cities like Madrid and Barcelona. This time, I am writing one of them, Eurostars Gaudi.
Located not far from Gaudi's masterpiece: La Sagrada Familia, Eurostars Gaudi offers great view to it. Choose a standard room, we'll get view to the in-progress church. Get an upgrade to junior suite, with a balcony, at the highest floor, the view will get better. The location is very convenience, at the corner of Consell de Cent street, just only 50 meter outside Monumental Metro station exit.

Hotel Room rate starts from 60 Euro, exclude tax and breakfast, this four star hotel is an affordable stay in Barcelona. Room size is a bit small compared to 4 star hotel, and also double-bed size is just less than 180cm. But we can expect great facilities and service. Free internet service, LCD TV, Aircon, and quiet sleep. Room accent is made of dark brown color.
[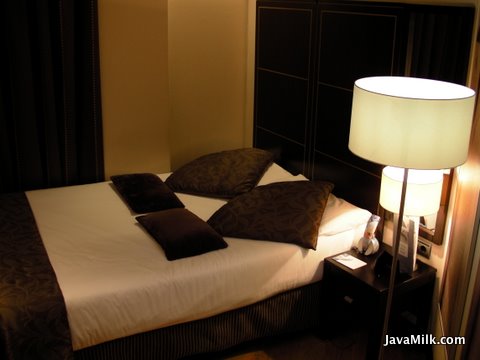 [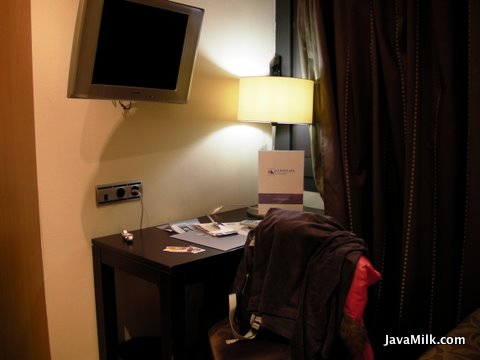 Bathroom is standard as other 4-star hotels, with bathtub and amenities, nothing is extraordinary here, it is clean and well managed.
[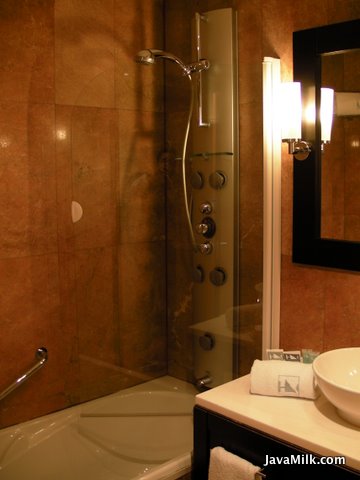 You should not concern about location, almost everywhere can be reached using  the metro. Going to La Ramblas, the main shopping street in Barcelona, took less than 20 minutes by metro. Or Passeig de Gracia and Catalunya, all are easily reached.
Just see photo below, my room overlooking La Sagrada Familia.
[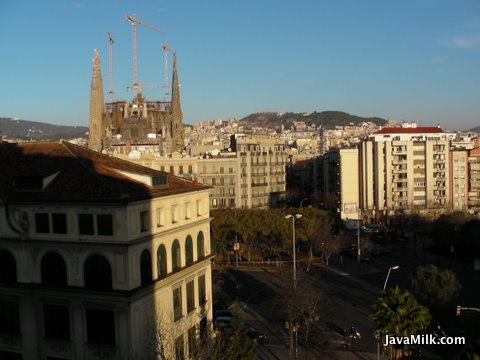 Helpful staffs gave good service to us, gave us city map and explained some basic transportation questions. Later when I checking out and asked help to print my flight e-ticket, staff happily helped us. Overall: recommended!