Considering too many times of spending weekend in Bandung, I decided to try a different route and city. Then Lampung came into my option.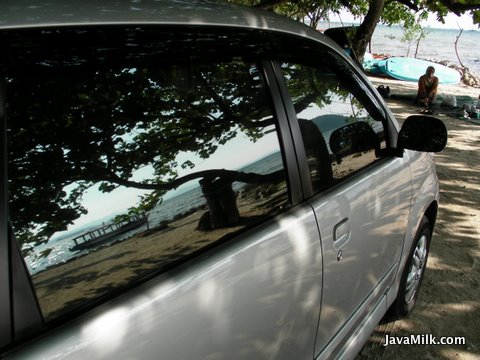 Lampung, with Bandar Lampung as its capital, is the most southern province of Sumatera Island. From Jakarta, the quickest way to Lampung is by car for 7-8 hours ride. Flight to Lampung's Raden Inten Airport is definitely a waste of time from Jakarta, considering effort to CGK airport and 2 hour prior check-in time.
To visit Lampung, you need to spare at least 2 full days. Day trip is not recommended, just calculate your travel time (7 hours each way).
The Journey
How is the route to Lampung? You don't need a map for this, but for your peace of mind, grab one as your guide. First, take toll-road from Jakarta to Merak. Then ferry cross Sunda Strait to Bakauheni, and continue by car to Bandar Lampung.
Jakarta-Merak toll fee is IDR 38,500 for private car, journey time is 1 hour and 20 minutes from Tomang for average speed of 90 km/h. Be caution on several section of the road that may have some cracks and road works.

[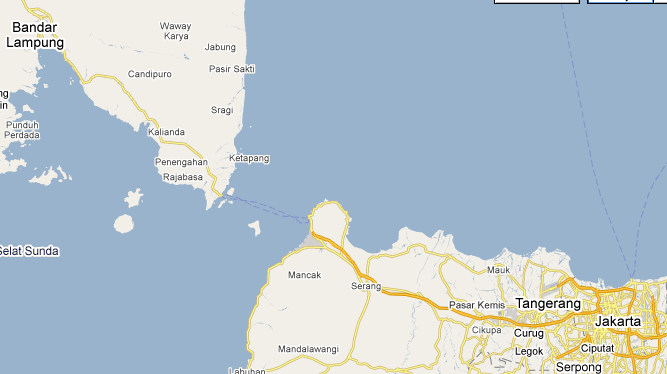 Arriving in Merak Harbour, you need to find private car gate. Pay the ferry fee for IDR 198,000 per car (no matter how many passenger in it) then follow the guidance of the harbour staff to direct you to departing ferry. Waiting time is minimum during weekend in non-peak season (assume 10-30 minutes) and wholaa.. our car is loaded into the ship (of course you need to drive it up by yourself to the ship).
Sailing time is depend on weather, time, and ship type, my experience was about 3 hours from loading, sailing, and unloading. During this time, get off the car (since it may be hot) and take some break. Sunda Strait (Selat Sunda) is actually a narrow strip that we can see Lampung directly from Merak in clear weather, but still need more than 2 hours for this crossing. We could stand and enjoy wind breeze on the railing, back of ferry ship, or sit in economic class room for some rest, or try its air-con VIP class room (pay supplement fee as high as IDR 10,000). As a driver, try to get some rest during this time.
Unloaded at Bakauheni port, follow the road sign to Bandar Lampung. We still need 2,5 hour drive from Bakauheni to Lampung. Road condition is pretty good, mostly straight road on Jalan Lintas Sumatera, with few crazy turns, passing Kalianda (with famous Kalianda Beach and Krakatoa Resorts).
The city
[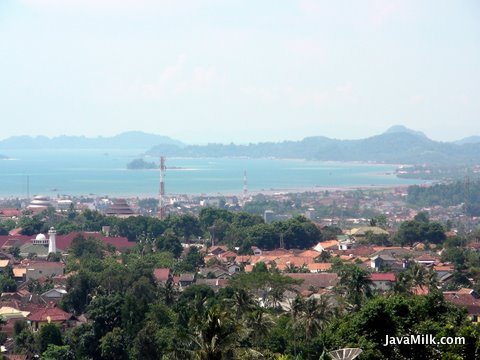 Bandar lampung is capital city of Lampung province. It is not a big city (compared to Palembang or Medan), with major products in forestry. Tourism has not developed yet, so don't put too much expectation for great things. The main district is called Tanjung Karang, situated high above hill, where all the malls and hotels are located. The lower district is called Teluk Betung, this is the area we first find when entered Bandar Lampung.
[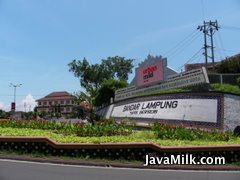 [
City center where all businesses are, is around  triangle one-way Jl. RA Kartini - Jl. Raden Intan - Jl. Ahmad Yani. Malls (not too big) are also located in this area, Carefour and Hypermart are available in case we need to buy some supplies.
I can't tell much about this city because I only stayed for only 2 days. Recommended activities in Lampung includes exploring Waykambas National Park (not exactly in the ciy, it is about 1 hour drive), that you can try to ride an elephant.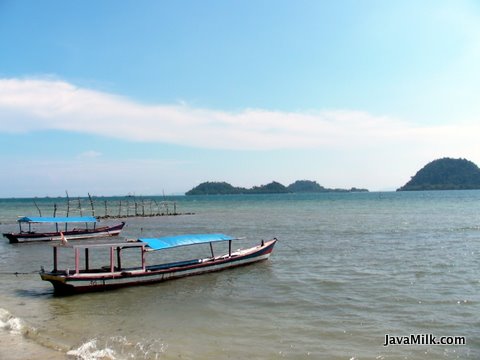 Pasir Putih Beach (translated as White Sand Beach) is the beach that local people go on weekend. It is 20 minutes drive to south of the city (we'll find this public beach on the left side, 20 minutes before entering Bandar Lampung from Bakauheni). Entrance ticket to this beach is IDR 6000 per person and IDR 4,000 per car. FYI, It is a beach for water playing, not for swimming.
[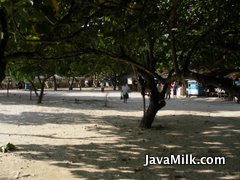 What to Eat
Eating should not be a problem. Just like eating in Jakarta, street vendors are plenty. There is no local unique food (in my opinion), since Lampung is a melting pot of culture from Java and Sumatera. So we can easily find Javanese food (pecel lele, etc) and Sumatera food (usually Padang cuisine). For local taste, you can try Puti Minang, a Padang restaurant chain. They are many stores in the city, such as at Jl. Katamso.
Although pempek is from Palembang, there is one famous store sells pempek at Jl. Sudirman, called Pempek 123. One piece of small pempek is IDR 3000, and we can try Selam or any other types.
Where to Stay
There are many hotels to choose to stay at Bandar Lampung.
[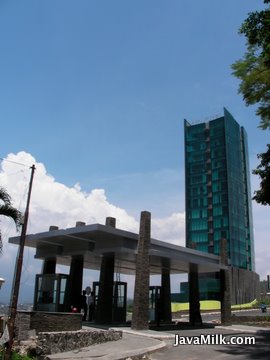 The most notable one, newest hotel in town is 4-star hotel Novotel Lampung (Book via Accor official website or Agoda for better discount). As photo above, this hotel is located at Jl. Gatot Subroto, hill side, and overlooking the sea. For best experience, choose Sea-view room for IDR 650,000 per night, or you can choose Hill-view (city-view to be correct) room at IDR 550,000. Rates include breakfast and tax. For more luxury hotel, there is 5-star Sheraton Hotel Lampung.
For budget stay, 3-star hotel is recommended. Hotel Indra Puri, at Wolter Monginsidi Street, also overlooking valley and sea can be your choice at rate IDR 375,000 for double room. Interior and amenities are great, the downside is the hotel building doesn't have elevator since only 3-storey. So staying at the 3rd floor will get the lowest rate.
For stay at very center of city, try Amalia Hotel (see room photo below) or Grand Anugerah Hotel. Chic and elegant design, just like Santika Hotel chain, also at rate IDR 350,000-400,000 for deluxe room, breakfast included. You need to book in advance to avoid full-house.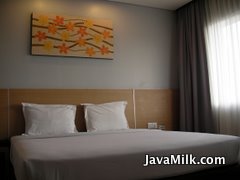 Tips
For some food to bring home, during our route back to Bakauheni, there were local people selling Durian (near Pasir Putih Beach), Duku (after Kalianda Resort), and Banana (a bit farther again).