A box on top of dining table looks not inviting. As I am not a huge fan of such snacks called 'pia' (something like dry cake) because bad taste brought by my friend from Semarang or Yogyakarta, so the box would not be touched by me unless told by my lovely wife.
She said that to buy this Pia Legong, you have to order 3 weeks prior pickup!! The producer is unable to catch huge demand of their product so the waiting list now is 3 weeks time. wow, this is quite a story to tell in my blog then.
[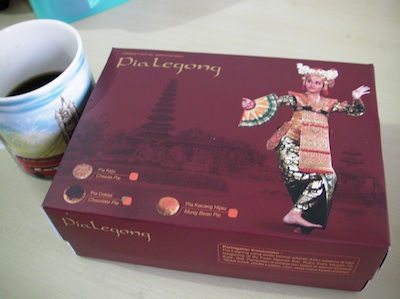 Now the taste.. Well very delicious I can tell. Actually there are 3 flovour of this pia; chocolate, cheese, and mung bean. I tried first two flavours, and both are fantastic although I prefer cheese. Its size is big, 7 cm in diameter, cheese or chocolate is abundantly filled.
[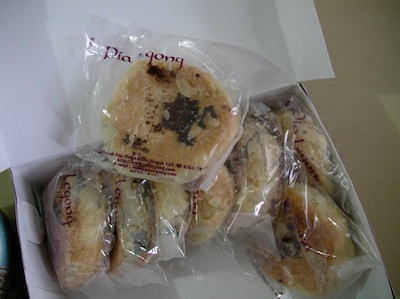 One box contains 10 pias, this Pia Legong is sold at IDR 50,000. Order by phone and they will tell you when to pick up.
The store location is at:
By Pass Ngurah Rai
Ruko Kuta Megah 12L
0361-7898777
www.pialegong.com
Definitely will be a great 'oleh-oleh' from Bali for friends and relatives, as an alternative from Joger clothing. But don't try to walk-in there without prior order, just make sure you can arrange the pickup during your holiday to Bali.