Ha! Seems a bit unrelate to travel, but I'd like to share this post.
[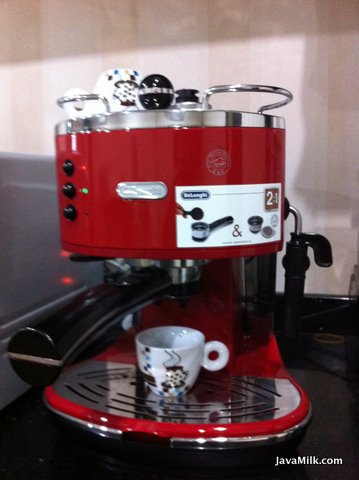 Several years ago I was still a cappuccino drinker, you may call common drinker. A pack of premix Nescafe 3-in-one was enough to satisfy daily need. Later, I bought separate items: black coffee, cream, and sugar, and mixed according to my taste. As you may guess, it was pretty normal drink in normal life.
Then it changed when I visited Italy, home of coffee, I got dragged into the dark world. Caffe is everywhere in Roma and served best coffee in the world: Italian Espresso.
Cappuccino is also common served, but local people only drink coffee with milk in the morning (until noon at the latest), and when you asked for cappuccino outside that time then sadly you are considered tourist and got unfriendly serving. So normally I ordered cappuccino in my breakfast, then wandering across this eternal city until night. When I had to stop walking for a break, ordering coffee would then be translated as ordering un caffe, and get espresso served in a tiny cup.
Espresso is dark black coffee and has intensely bitter flavor. Most people need to put sugar in it, but even I poured 2 pack of sugar to the Italian espresso, the taste was almost the same as no sugar. Later, still in Rome, I decided to drink espresso without sugar for the first time. It was unpleasant, but a life-changing experience :)

It needed several months to blend in my blood, after went back to Indonesia, then I got more and more accustomed to non-sugar coffee. Cappuccino without sugar, latte without sugar, and then finally I loved to drink black coffee without sugar.
I bought coffee french press for home and office use, so I could brew ground coffee. Tried many ground coffee brands taken from European countries, also local like Java and Lampung coffee.
Then I decided it was time to buy a real coffee machine. A pressured machine, not a dipped one. Can served great espresso in minutes but should not be very expensive.
The first machine that made me decide to buy was spotted in Luzern, Swiss. It is Tschibo sleek and cheap, only 100 CHF. Wanted so much, but I could not buy it because of the package size during my multi-city travelling. Luckily I didn't buy it, as I later found out that it was pod-only coffee machine, not for ground. The second machine I touched was DeLonghi brand in Singapore, did not buy because I thought too much.
And this recent visit to Singapore, I really bought the DeLonghi machine. Ha! No need to explain further, it is a great purchase (although the price was a bit expensive compared to SRP in London or Italy). I bought it for SGD 399 in Orchard Tangs. I chose red color out of 3 options, the others are black and white.
[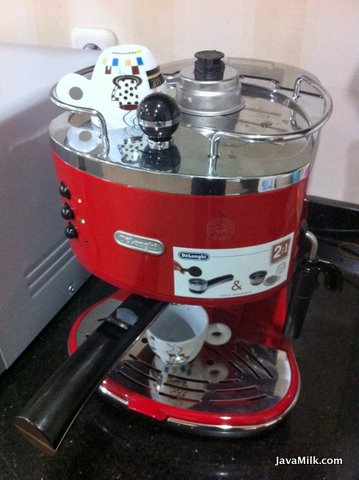 De'Longhi Espresso ECO 150 body design is retro classic, shiny with chrome. It accepts ground coffee as well as E.S.E, and has steam pipe to produce milk froth. Crema produced in a cup of espresso, and taste great. The taste is even better compared to using french press.
[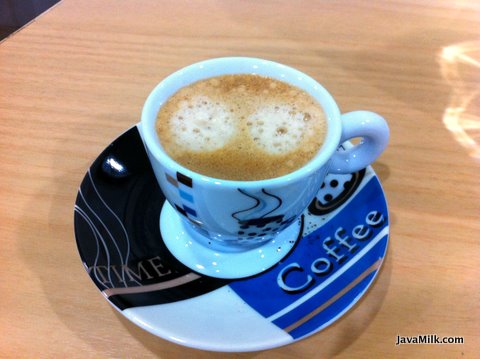 [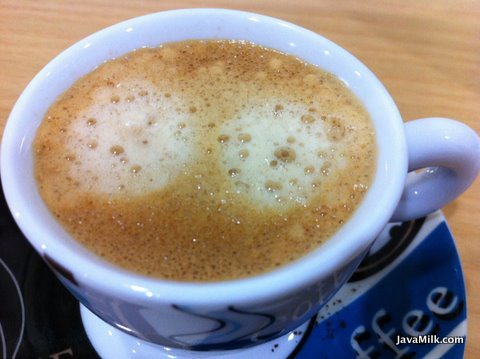 Bought a carton of fresh milk, make froth using steamer, this is my caffe latte (sorry picture not quite well under low light)
[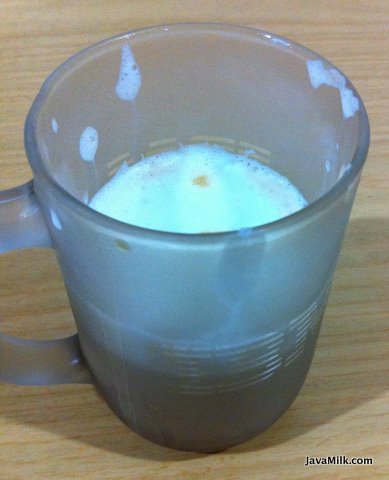 No need to go to Starbucks again, the machine will pay itself after 150 servings. Now it is only a matter of ground coffee selection and learning how to decorate latte like a leaf.
My coffee selection bought during travelling :
Coop, house brand from Swiss supermarket
[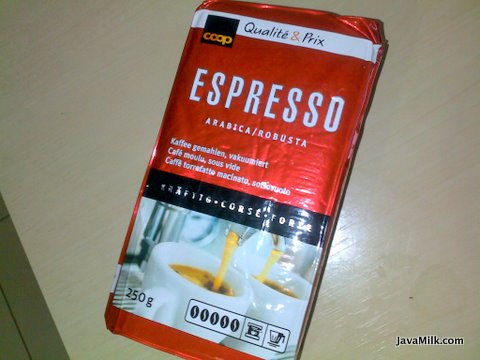 Lavazza, Italian favourite coffee
[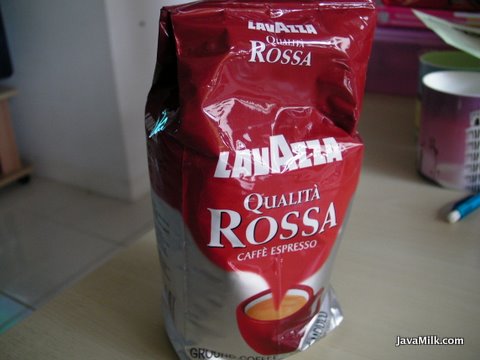 Segafredo, also from Italy, not so good in my opinion.
[