Previous : Kaoshiung
Alishan National Scenic Area
Fengjia night market
Taiwan put Alishan as on of the must visited site. Alishan National Scenic Area is in Chiayi County, southern Taiwan. It is Sunday and you are in the favorite site of the local, what can you expect then? Fortunately, it is not the peak season; otherwise you can not see yourself here.
[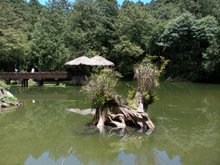 [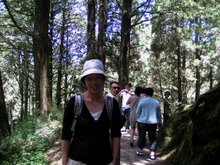 The government restrict outsider to build hotel here to preserve its natural hence the only hotel here is the one built by the government. I take a look at the price and it is quite expensive NT 2000/ night. For those who love natural beauty, it could be a worth. People love to stay overnight and then wake up early to catch the sunrise.
As I am not the nature lover, I just pass it through. The guide will take us to the highest point then we will step down the stairs, quite easy. Sights around Alishan are signposted in Chinese, English and Japanese, and as you walk around the trails you'll find that nearly every tree of size, age or unusual shape has been dubbed with a fanciful moniker like "Elephant Trunk" or "Three Generation Tree". Down the hill, burned by the sun, I could not wait to get into the bus. Visiting Alishan is a must maybe but I definitely will reconsider my second visit here.
From southern, we now arrive in the central part of Taiwan, Taichung. I skip here some story of the temple, since I'm not a believer and I find nothing special here. What I would not miss to inform you is the visit to street market, and today is Fengjia night market. It is located in the Xitun area in Taichung, next to Feng Chia University.
It was claimed to be the largest night market in Taiwan while other claims Shilin in Taipei to be the largest one. For me (?) due to time limitation, I have no time to make comparison. Some saying that buying things in Fengjia could be cheaper than other place since it is marketed to the students. I shop a lot here since I found that they are sold with affordable price and they are made with Japanese / Korean standard. Very very cute one. There is a joke saying that a long time ago Made in Taiwan product used to be an avoided one in the market, since they are cheap but the quality is doubted. Nowadays, such product will name as Made in China.
Finish a quick shopping, dinner, back to hotel.. zzzzzzzzzzzzzzzz
Next: \<a href="//javamilk.com/my-taiwan-travel-guide/taipei-day-6/">Day 6 - Taichung-Taipei\</a>