On my recent visit to Bandung, I wanted to give a try to stay in one of Amaris chain hotels. Amaris is budget hotel brand by Santika Group, scattered across many cities in Indonesia. The 2-star Amaris hotels, can be found in Jakarta, Bandung, Semarang, Jogjakarta, even Ambon, published rates just below IDR 500,000 (\~USD 55). All Amaris may look the same, only three level tall, colourful design if you see hotel's facade.
[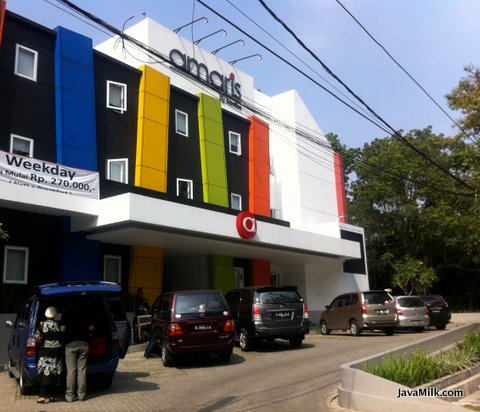 Amaris in Bandung has 2 location to choose, one is at Cihampelas Road and the other at Cimanuk Road. I always try to avoid Cihampelas as the road is packed and jammed during weekend, so Cimanuk is better option when I bring my car. I booked directly via their call centre and I got rate IDR 450,000 for one Saturday night in Amaris Cimanuk, weekday must be cheaper.
Amaris Cimanuk is located at Cimanuk Road junction, walking distance from Jl. Riau. A slow walk to Heritage Factory Outlet only took 7-10 minutes (I carry my toddler if you care to know). Just google map (blue pin on below map) to get its precise location and driving direction. Its surrounding is quiet and green with many trees.
[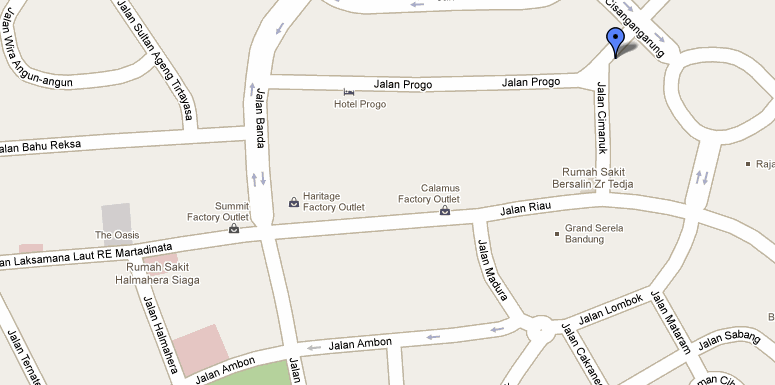 If you ever stay in one of Tune Hotels, you may get a little picture of this budget hotel, but your rate in Amaris has already included breakfast (they don't give you coupon so you can bring as many people as you can), television, Air-Con, shower amenities, and of course towels (which Tune hotels will charge you all of these items).  A closer comparison is Ibis hotel chain but with less rooms.
[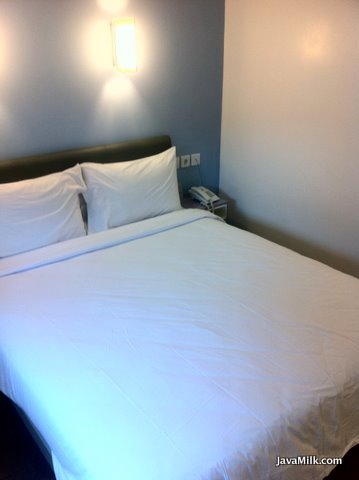 Room is clean, although room size could not be compared with 3-star hotels. LCD television is a bit small (26"), some international channel included, there is one small table with chair, also safe deposit box. I got double bed, seems that this was 160cm in wide, enough sleep only for two persons. The bed itself was very comfortable. Air-con wass not used during day, I just opened the window to get cool Bandung air.
You get two bottled water in the room, no coffee/tea maker, but surprisingly water dispenser (hot+cold) is available in corridor, so I believe water would not be a problem here for travelers.
[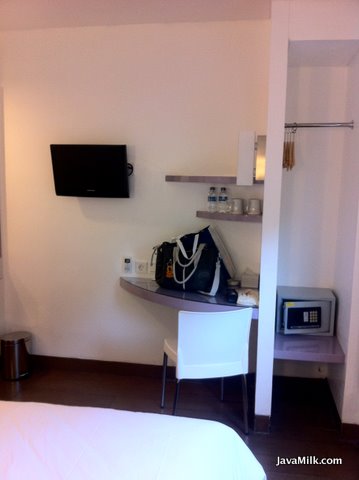 Morning breakfast is standard, served in near lobby area. Free wifi also available, but signal may not get into your room. Staff, well I never need hotel staff except for check-in, so could not rate them. My little observation showed that the hotel reduces the room rate by utilizing staff, one staff I saw during check-in apparently also work and serve breakfast :)
As I said earlier, this hotel location is near Jl. Riau Bandung, where major factory outlets are located. If you want to have dinner, also just walk to Jl. Progo where some chick restaurants packed with youngsters.
My conclusion, this hotel is not quite cheap in low season, but in high season when other hotels dare to rise their rate, you can always count on Amaris brand.