May be we get used to taking car to everywhere so we forget that we have reliable train network in Java. This time JavaMilk wants to have a little adventure by not taking car as usual to Bandung.
Online Booking train ticket to Bandung
To secure your seat, it is advisable to reserve and buy in advance, especially during long weekend or peak period. Online booking is available or you can check route and schedule using PT KAI Website. The easiest way to book online, then pay by credit card. Optinal way is to call 121 (021-121 from mobile), then pay using ATM machine (Mandiri, etc) or pay at convenient stores nationwide. Make sure always to book 'executive class' coach to get comfort during journey, it is seat compulsory coach, equipped with air-con, reclining seat with LCD TV for short entertainment.
Jakarta - Bandung (vv) route is served by Argo Parahyangan train, schedule run about 8 times a day. One journey will take 3 hour 33 minutes with some stop (from Gambir - Jatinegara - Bekasi - Bandung).
For my case, I just go-show by purchasing ticket in Gambir station just before my departure on 5.45am (by 2015 this departure is moved to 05.00). Ticket price for executive class is from ~IDR 100,000 (as 2015) per person, reduction for senior citizen is available by showing ID card.
Riding the Train
It should not be surprising to see that after entering my train coach, only 80% seats were occupied. Yup, train lose battle to car in Jakarta-Bandung route, in price and also in time. Taking a car will only take 2 hours to get into Bandung (not to include traffic in Pasteur gate in weekend) still faster than the train.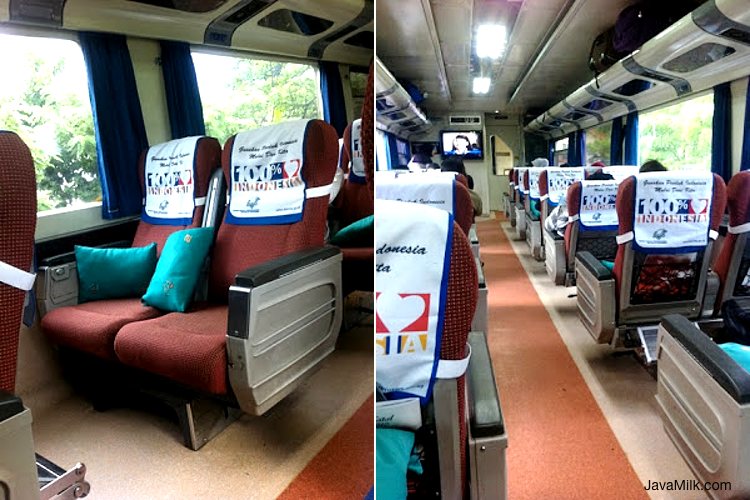 But by taking train, it is safer and not tiring. Additional bonus is you get magnificent view in last 1 hour (Jkt-Bandung) by climbing mountains and crossing valleys by bridges. Just make sure you book C-D seats from Jakarta-Bandung or A-B seats from Bandung-Jakarta to get these views: paddy's green fields and valleys with waterfall.
Arriving in Bandung
Arrived in Bandung, sharply as scheduled in the morning, body is still fresh and still to early to get to anywhere. Bandung station is quite large, has 8 platforms but you don't have to take stairs to cross each platform (just look right and left as suggested by sign post).
From here, you can take Angkot (city transportation) to any destination or your hotel (if you carry heavy luggages, consider taking taxi). The famous Kartika Sari bakery is almost just opposite of the station, walking a bit further is Pasir Kaliki Road, packed with hotels and foodstores, where I grabbed by breakfast.
So, why don't you take train to Bandung?