What does it feel riding a 300km/h train?
It is common in Western Europe, by taking TGV or ICE inter-city train. London to Paris by Eurostar train top speed is 300km/h is one of the busiest lines in Europe driven by TGV, while Frankfurt to Cologne line is another good example of Germany ICE high speed train.
But in Asia, only Japan and China have such speedy trains. So when you travel to China, why don't you spend some time to take these trains instead of flying?
Maglev Train
(Shanghai Pudong Airport to Shanghai City, vv)
This is the fastest train on earth and the only place you can ride maglev train as regular service. Maglev train is 'floated', no touchpoint with the rail, as it uses magnetic levitation technology to hover half-inch above track, ensure that train is faster and quieter than traditional rail trains.
[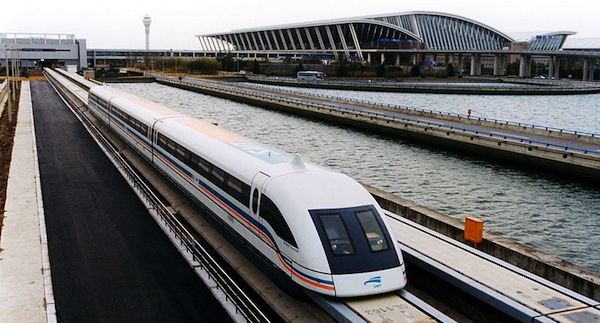 The Shanghai Maglev Train operates at 431 km/h in top speed (only on 09.00-10.45am, 13.00-16.45), and slower speed 301 km/h in the other times. 30 km journey from Pudong Airport (PVG) to Longyang Rd Metro Station in East Shanghai (and vice versa) takes only 7 minutes 20 seconds, you'll waste no time to fight street traffic to catch a flight.
As this is national asset and pride, when maglev train starts running, you can see one military guard gives salute to the train!
To take this train when you arrive at Pudong International Airport, follow "Train" sign in arrival hall. It is 5 minutes walk until you find the ticket office. Ticket price is 50 Yuan one-way (40 Yuan if you show airline ticket).
Shanghai - Hangzhou High Speed Train
Also known as Huhang High Speed Railways. Journey starts from Shanghai Hongqiao Station, where the Hongqiao Airport located, (is the largest station in Asia). For 202 km ride you will reach Hangzhou Station only in 45 minutes with top speed at 350km/h. This new line and G-type train started in October 2010 to beat slower  78 minutes D-type train from Shanghai South Station to Hangzhou.
Ticket price is 131 Yuan for first class and 82 Yuan for second class. To buy the ticket in advance, go to any large train station (Shanghai Station, South, West, or Hongqiao itself). Ticket staff may not speak English at all, but you can just say 'ticket to Hangzhou', and make sure you choose G-type train schedule (example: G7904).
Beijing - Shanghai High Speed Train
This line is the most prestigious one. Imagine 1302 km distance between Beijing and Shanghai, currently is served by D-type train by almost 10 hour journey time. People prefers flying on this route than taking train, airlines ticket is about 900Yuan one way for 1:10 hour flight. But this may change as train will take people city-centre to city-centre, no more 2 hour check-in time and airport transfer.
New G-type High Speed Train Beijing to Shanghai will commence service on 20 June 2011 and cut time in half. Original plan is to run as fast as 329 km/h, From Beijing South Station to Shanghai Hongqiao Station can be reached in 3 hour and 58 minutes. But seems that for safety concern, the train will run at 300 km/h in 4 hours 48 minutes journey time. Ticket price has yet to be announced. Stopping along the route is Nanjing, this journey is as long as taking train from Paris to Zurich.
Guangzhou - Wuhan High Speed Train
Currently the fastest operating train route in China, this 968km route will take 3 hour 16 minutes at staggering speed up to 350km/h. Ticket price is 490 Yuan for second class and 780 Yuan for first class.
[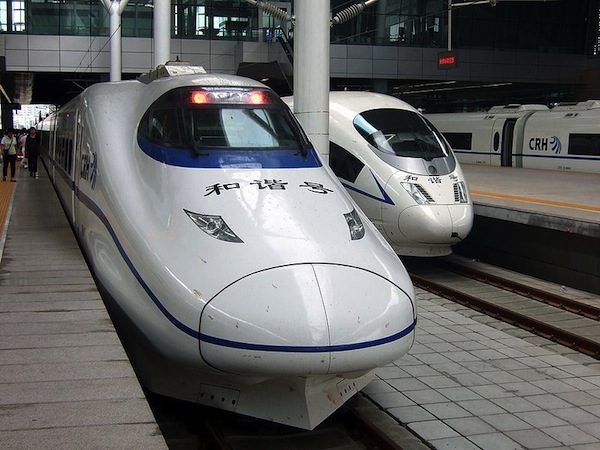 Also in very near future (read: 2012), we can ride high speed train on these route all together: from Guangzhou to Beijing, 2100km long!
After purchasing any train tickets, you will be puzzled to read the information on ticket and find your seat number :) Use this link about how to read train ticket.